Looking for a better, more reliable, safer and affordable power solution? Get Lumos Eco today!
How Does it work?
What can it power?
Before joining the service, check to see that Lumos can power your appliances and meet your needs.
Note:
Not all appliances can be connected at once.
For LED TV: Duration of use depends on power requirements of your TV
Terms of Service
 By purchasing this product online, you have agreed to and accepted our terms of service, kindly 
click here
 to read.
Returns
If you cancel your order after it has been placed due to a change of mind, Jumia will cancel the delivery of the order accordingly
Before Installation 
If you have received your order and wish to return the product, kindly contact Jumia to return it.Do not unbox the package and ensure all seals, tags and accessories are left intact and that the product is in its factory packaging. 
We strongly recommend that you do not open the package or try to install it on your own before our certified installer arrives for installation. This will ensure that any defective / damaged items are identified by our installer. If you open the package and install the product yourself or through any other party, you won't be able to return the product. Lumos NG does not take any responsibility or assumes no liability for the installation of the system by the customer or any third-party installer.
Installation
After your order is fulfilled by Jumia, a Lumos-certified installer will visit your locatioAfter your order is fulfilled by Jumia, a Lumos-certified installer will visit your location to install the system. You will be required to pay the installer a corresponding installation fee according to the table below:
We will contact you 24 hours after the delivery of the product through Jumia.  
After Installation 
The product is covered by manufacturer warranty (within 1 year of purchase), so please reach out  to Lumos through our customer care line 08001234567 or send a mail to ecommerce@lumos.com.ng. A Lumos-certified technician will come to check the product and take necessary action. 
Please note that the warranty is for the product only, not including accessories (such as DC-AC converter).
About Lumos
Lumos offers clean, affordable solar power to a market of 1.3 billion potential customers who live off the electricity grid. Lumos enables people to replace hazardous and expensive kerosene generators and lanterns with modern solar electricity that can power lights, cellphones, fans, computers, TVs and other small electronic devices.
Lumos believes everyone has the right to enjoy a better quality of life offered by access to clean, affordable and reliable electricity.
We make it happen by:
Enabling off-grid customers to take control of their energy generation and usage.
Providing high level customer support and technical service.
Leaning on remote monitoring and data intelligence to keep systems running smoothly and minimizing the need for on-site technicians.
Designing durable, energy efficient, worry-free solar power systems.
Key Features
The Lumos ECO Solar Home System includes the following features:
1 IDU (Indoor Unit) with 200Wh in-built LI-ION battery
1X 80W solar panel 
2 X Cigarette lighter sockets
2 X 5V USB
4 X 12V DC outlet
The Lumos ECO Indoor Unit weighs only 5kg and is easy to carry 
What's in the box
When you order the Lumos ECO Home Solar System, you'll be getting:
1 IDU (Indoor Unit) with 200Wh in-built LI-ION battery
1 X 80W Solar panel
1 X Charging cable
2 X LED bulbs
1 DC-AC Converter
Specifications
SKU

: LU071GP1JJT60NAFAMZ

Color

: Yellow and Black

Model

: Eco B7

Product Line

: Lumos

Weight (kg)

: 5
This product has no ratings yet.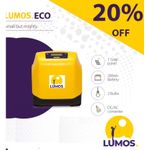 Lumos ECO–Solar Home System