Contents:
- Properties of Materials.
- Stresses and Strains.
- Shear Force and Bending Moment.
- Centre of Gravity.
- Moment of Intertia.
- Bending and Shear Stresses.
- Slope and Deflection.
- Columns and Struts.
- Combined Direct and Bending Stress.
- Analysis of Trusses.
- Experiments.
- Previous Years Question Papers.
- Index.
Key Features
A book.
Author: A. K. Upadhyay.
Genre: Engineering.
Recommended for civil engineers.
Specifications
SKU

: GE779BO0FTP39NAFAMZ

Author

: A. K. Upadhyay

Weight (kg)

: 1
This product has no ratings yet.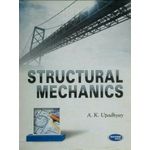 Structural Mechanics By A. K. Upadhyay