Organic Almonds are one of nature's finest creations. Mild sweetness, crisp texture, endless versatility, and extensive health benefits make them an indispensable part of your day. Almonds are a good source of protein and fiber making them the perfect mid-morning or mid-afternoon snack to help tide you over until your next meal. Almonds are also high in calcium, Vitamin E, riboflavin and magnesium, with unsaturated fats to help maintain a healthy heart. Whether you're striving to lose weight, manage blood sugar or simply get more natural nutrients every day, almonds help you get more of the good things your body needs. Tierra Farm sources the finest Organic Unpasteurized Almonds from Europe to ensure they are a staple in your healthy diet.
Tierra Farm started as a diversified organic vegetable farm in the Finger Lakes region of New York. During the cold, snowy, winter months, they turned to selling organic nuts and dried fruit. That original farm is still part of Tierra Farm, which is now a Certified Organic manufacturer and distributor of nuts and dried fruit.

Tierra Farm prioritizes buying directly from farmers and handles only Certified Organic products which are grown without synthetic pesticides, genetically modified organisms, or chemical fertilizers. Organic farming helps to conserve water, build healthy soil, and support biodiversity. Tierra Farm also generates 70% or more of their electricity from solar panels and diverts over 60% of their waste into recycling. They strive to create full-time jobs and provide benefits including healthcare and paid vacation to their employees. From trail mix to chocolate-covered treats, these are snacks you can always feel good about
Key Features
Truly raw and unpasteurized,  Certified Organic Almonds are large, evenly shaped, and delicious.
Non-GMO, gluten-free, and vegan-friendly almonds that make a great tasty snack.
Eat them raw or roasted, make almond milk, meal, or butter. Everything tastes better with almonds.
 Certified Organic Almonds are unsalted, so you can roast and flavor them to your taste.
Packed in a quality Container that will help you keep the almonds fresh for months.
Specifications
SKU

: TI646FF0SX13QNAFAMZ

Production Country

: United States

Weight (kg)

: 0.2
Product Reviews (0)
This product has no reviews yet.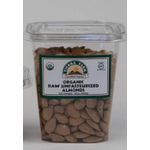 Tierra Farm Organic Unpasteurized Raw Almonds 16oz 454 G