Seller Score:

3.7 / 5

Selling on Jumia:

5 months

---

Delivery

Delivery Timelines and Cities

| | | |
| --- | --- | --- |
| City | | Regular |
| Lagos | 1* | 2 - 4 |
| Ibadan, Abuja, Abeokuta | 2* | 3 - 5 |
| Other cities | 5* | 3 - 8 |

*If order placed before 2pm.

Jumia Express is available only for items with the Logo. Click here for more information

Delivery times are business days only, and do not include Saturday & Sunday.
The delivery timeline for international orders is 10-20 days.

Click here for our full Delivery Timelines

& Click here for our Shipping fees details

Delivery within: 4 business days

Warranty

See more details about warranty

here

2 years
Secure & Reliable Payment
Free 7-day return if eligible
Click here for more information on our Returns Policy.
Stunning UHD viewing with lifelike vibrant colours
Thanks to Colour Brilliance, you can see everything as nature intended. Tones are reproduced with stunning precision – just like you're really there. Everything you see on the screen is bright and rich. Colours come alive with beautiful intensity and images look natural and lifelike. Now you can dive into ultra-vibrant UHD viewing that is truly brilliant.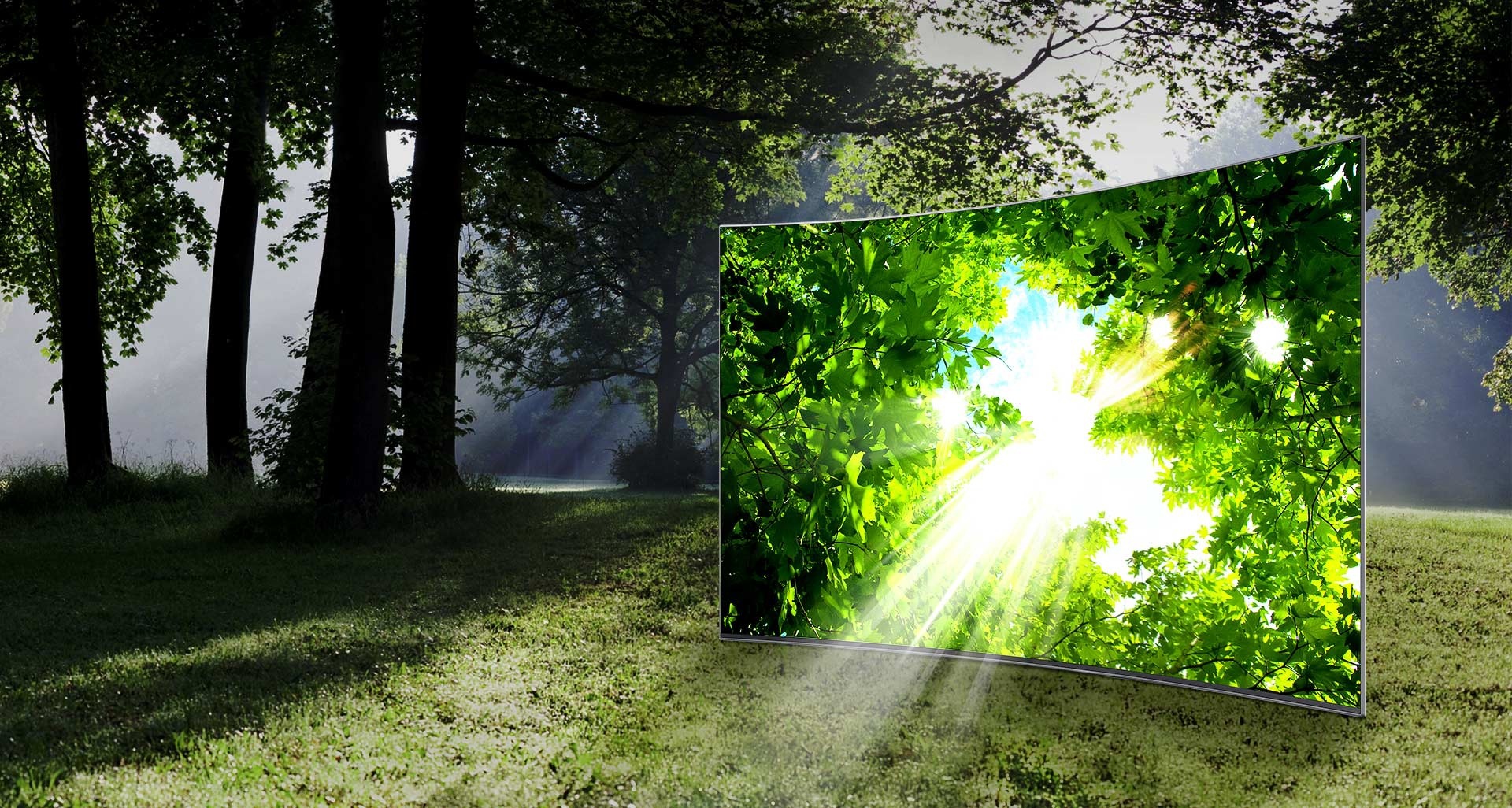 A more detailed picture made for UHD resolution
Samsung's advanced UHD dimming technology brings the ideal level of contrast and colour to your UHD viewing. The higher resolution of UHD also means that the picture requires more processing for a highly-detailed image. That's why Samsung UHD dimming technology has been developed to process black and white as optimally as possible and produce colours that are far more vivid.
Ultra HD viewing means you can see every intricate detail on the screen clearer than ever. Your Samsung UHD TV offers a resolution four times higher than Full HD, with accurate true-to-life colour. Enjoy a picture that's optimised for even greater clarity and detail than you've ever seen before.

Clear Motion Rate minimises motion blur
Thanks to Samsung's advanced Clear Motion Rate (CMR) technology, even fast moving scenes are delivered with clarity. A higher CMR means clearer viewing and less motion blur, so you can enjoy action films, sports and other entertainment at their very best. This technology is possible due to an enhanced panel refresh rate, image processor speed and backlight technology. That means viewing that's clearly better.

Future Ready
TV technology is always evolving and so does Samsung UHD TV. With UHD Evolution Kit*, your Samsung UHD TV can be updated to be compatible with future UHD standards without buying a new TV. Get ready for future UHD standards with Future Ready*. * UHD Evolution Kit sold separately. * This feature is based on current UHD connectivity, broadcasting standards and Blu-ray standardization initiatives.
Go deeper into your content
Auto Depth Enhancer applies various levels of contrast to different area on the screen to give image outstanding depth. Experience immersive viewing on your TV screen.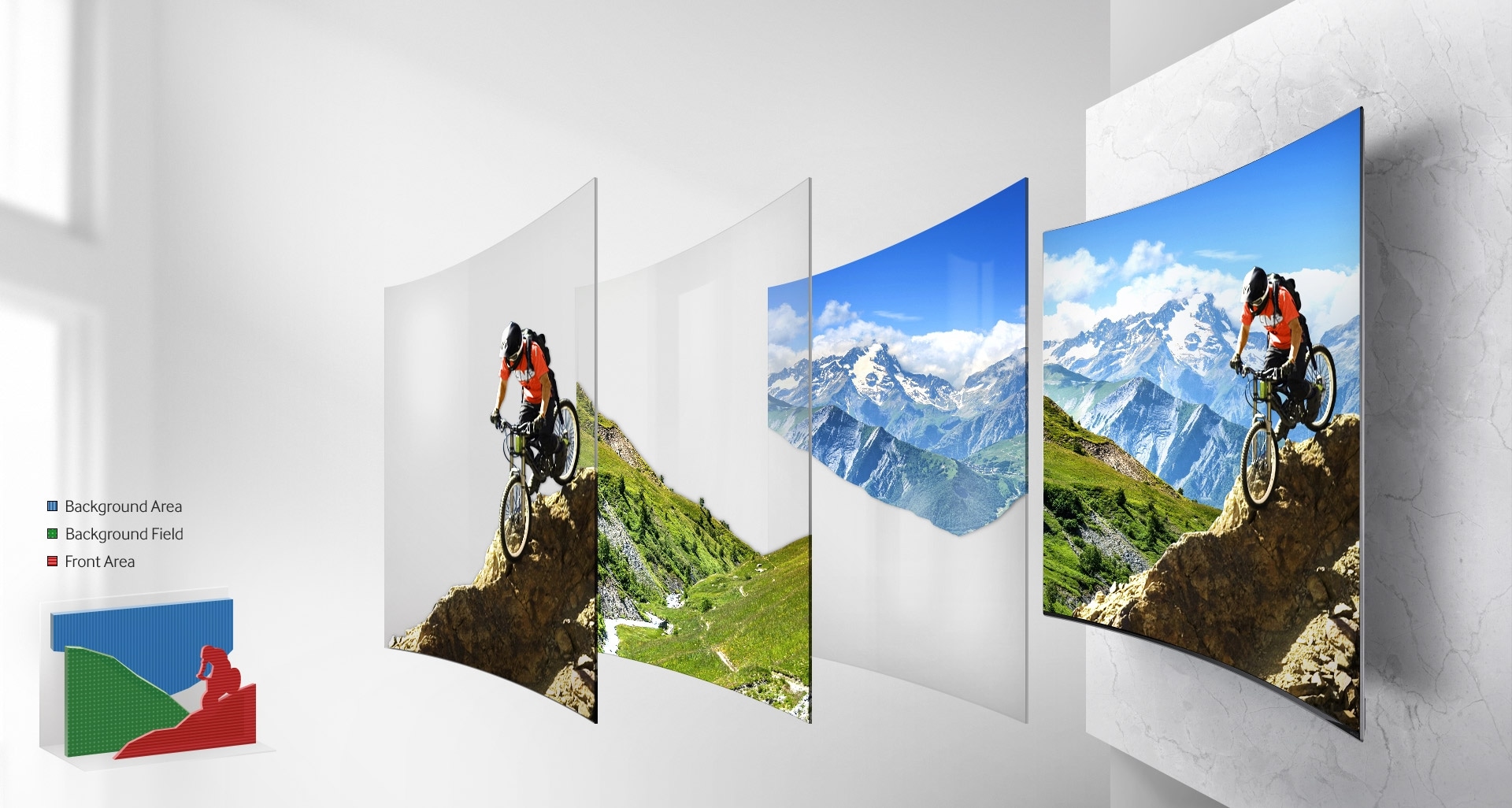 An immersive picture that seems to float in mid-air
Thanks to Samsung's Aero Design, you can enjoy viewing that is even more immersive and enjoyable than ever before. The Aero stand elevates the picture and makes it appear to float, bringing your entertainment to centre stage. Natural materials and premium detailing means an elegant look that you'll be proud to own, and a low-profile built-in speaker provides great audio from the TV itself.

Great multitasking with Multi-Link Screen (Quad)
Samsung's Multi-Link Screen brings your entertainment experience to a whole new level by providing multiple-screen viewing. The Multi-Link Screen (Quad) feature lets you use up to four different screens simultaneously on the UHD screen however you want. That means that you can watch live TV on one screen while on another you can browse On TV, and with the remaining two screens you can watch video clips from YouTube while searching for more things to watch. Experience the joys of having four UHD TVs in one. * Multi-Link Screen experience may vary by region or territory. * Features may vary depending on TV model's specifications.
Samsung's Multi-Link Screen brings your entertainment experience to a whole new level by providing multiple-screen viewing. You can search for information on the internet about a TV show that you're watching on the same screen, or watch recommended video clips related to the live show you're watching simultaneously. * Multi-Link Screen experience may vary by region or territory. * Features may vary depending on TV model's specifications.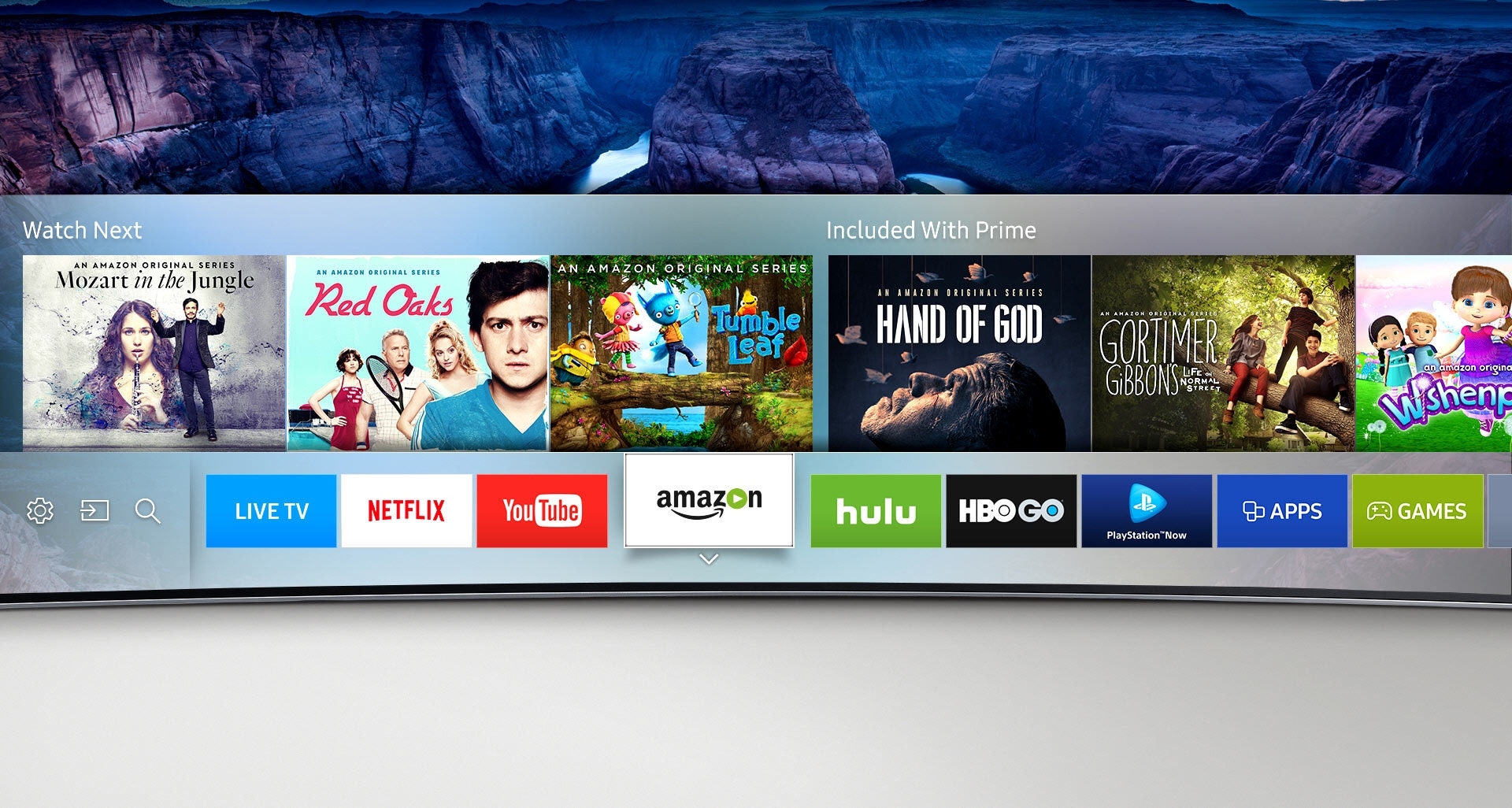 You can also Control your TV easily with voice commands
Thanks to Samsung's latest Voice Interaction, you can use simple spoken commands to control your TV. Use your voice to access a wide range of TV functions including selecting the channel, adjusting the volume level, or switching it off. There are also easy voice commands that play and stop which you're watching. * Voice Interaction requires Samsung Smart Control * Voice control not available in all languages, dialects and regions. * Performance varies depending on language, pronunciation, voice and ambient noise levels.
Easier motion control with finger and hand gestures
With Samsung's latest Motion Control, not only can you control your TV using hand movements, you can even use a range of simple finger gestures. Enhanced Motion Control recognizes even finger movements, so a finger is all it takes to select the channel or volume level, load apps, scroll webpages and navigate Smart Hub. * Motion Control requires TV camera (sold separately) * Performance varies depending on surrounding environment brightness levels.
Step up your picture quality to near-UHD
Ultra Clean View analyzes your content with an advanced algorithm to filter and reduce noise. Even if the video source is less than Full HD quality, you'll still be able to enjoy images that rival the UHD standard.*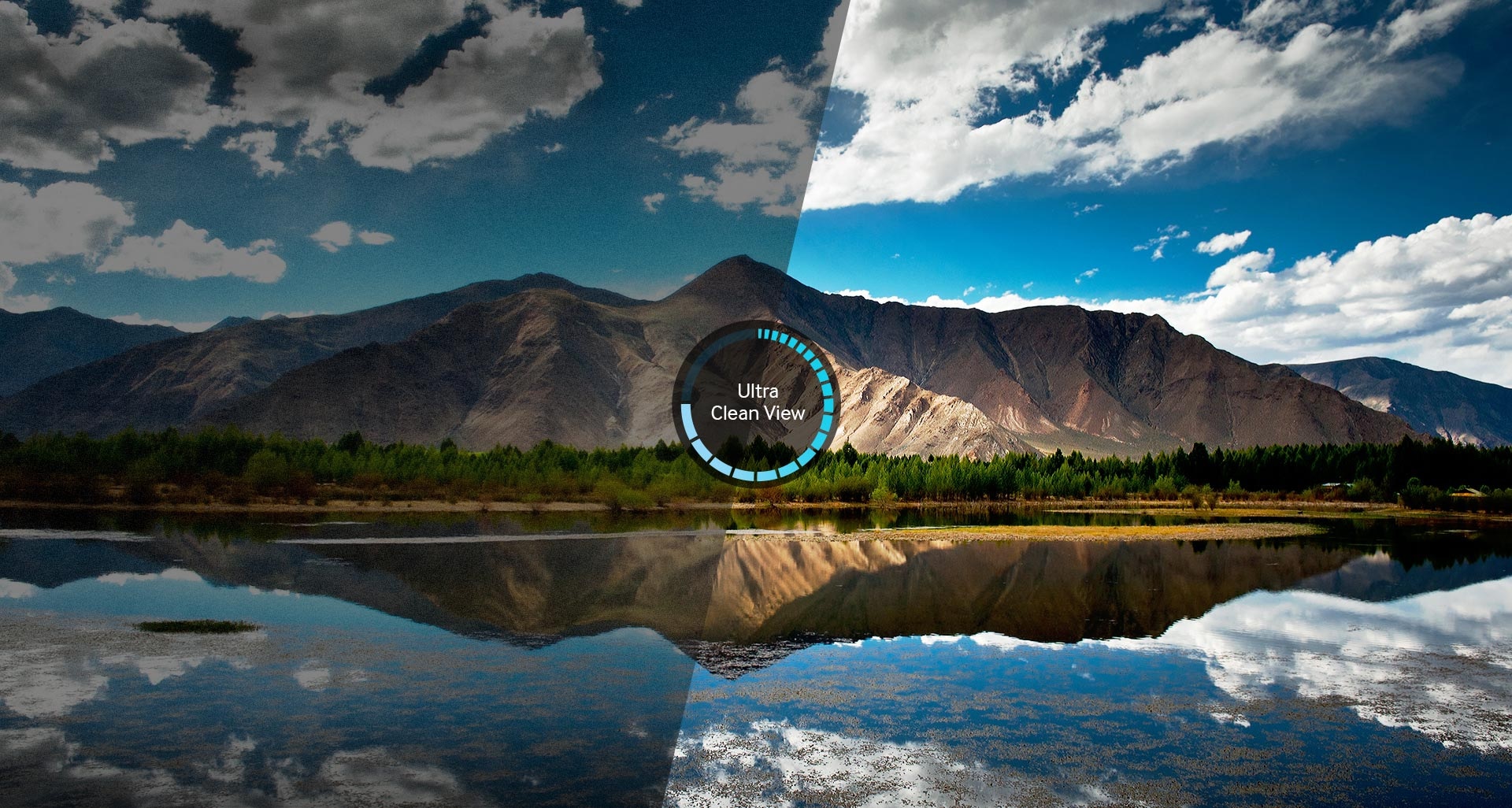 Easy touchpad and motion control for your TV
Using your TV is more intuitive with the Samsung Smart Control. Using the touchpad you can flip between Smart Hub panels and scroll down webpages, and by pointing the remote, you can utilise Motion Control to move the on-screen cursor to navigate and enter text easily. Useful video control keys also help you watch movies, TV and other content you've downloaded or streamed on demand.
Updated Smart View connects your TV, devices and content
Samsung's latest Smart View 2.0 app makes it easier to enjoy all your content however you like. Using your home network, you can stream live broadcast TV content to your smartphone or tablet and use your mobile device as a TV remote control. Or you can access and enjoy content on your Smart TV from your smartphone or PC through Smart Hub's Multimedia Panel. It's easy to use, so all you have to do is enjoy. * Setup requires your TV and mobile device to be on the same network (AP) * Supported feature may vary by OS and devices
Powerful Quad Core processor - Faster speeds, stronger performance
Faster speeds, stronger performance
The powerful Quad Core Processor speeds up your Samsung Smart TV
so it reacts to commands and running apps instantly.
It also gives you the speed to enjoy multitasking with the Multi-Link Screen.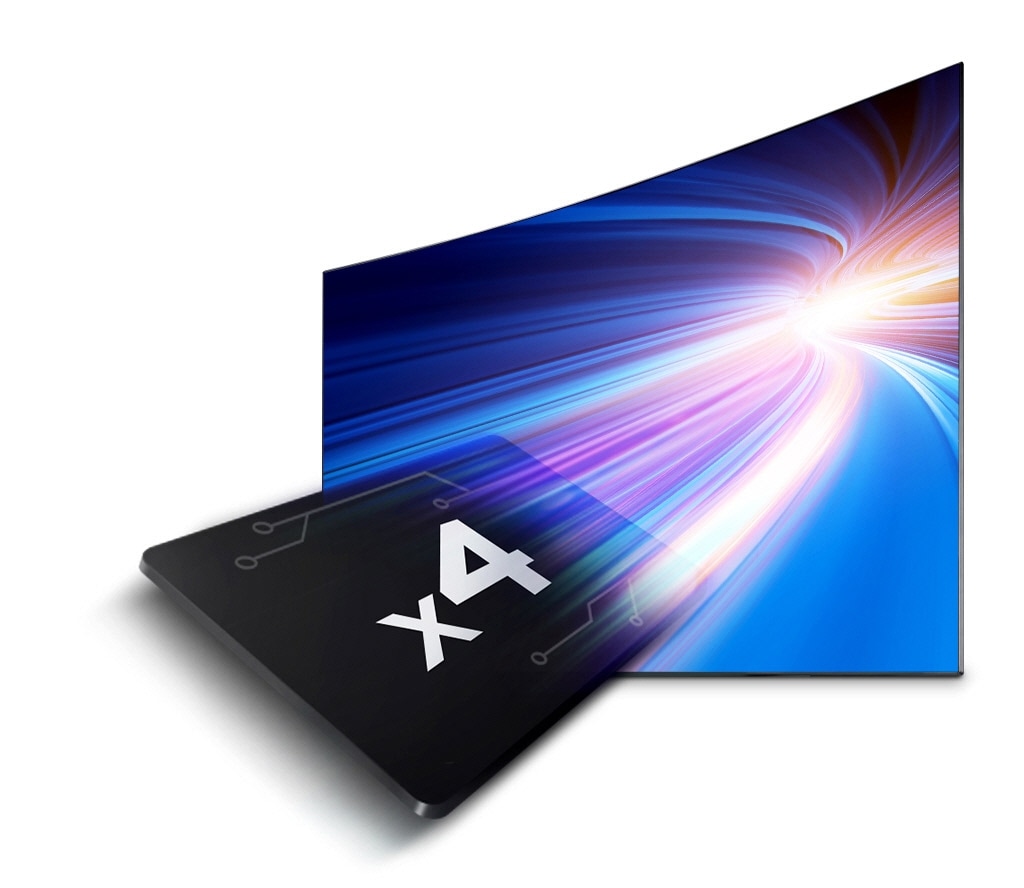 Thanks to a powerful Quad Core processor, your Samsung Smart TV offers enhanced performance. You'll notice the difference straight away, with faster multitasking and switching between content and web browsing, as well as smoother interaction. With this extra power, your entertainment experience will be so much more enjoyable, with less waiting and more viewing.
See your mobile content on a large TV screen quickly and easily
With your new Samsung Smart TV, you can enjoy content from mobile devices on a bigger screen quickly and easily. Samsung's enhanced screen mirroring technology makes the process simple, with no need to change the TV source. Just open the notification panel on your mobile device, select the Screen Mirroring icon and select the TV. That's all you need to do to enjoy apps, games and more on a full-size TV.
All the excitement of the big match with Soccer Mode
With Soccer Mode, it's like you're actually at the match. It sharply and vividly brings out the green grass of the pitch and all the other colours of the stadium. A powerful multi-surround sound effect also lets you hear all of the excitement. You can even zoom in to selected areas of the screen for a better view. With just a push of a button you can make the most of your favourite sport with all your friends.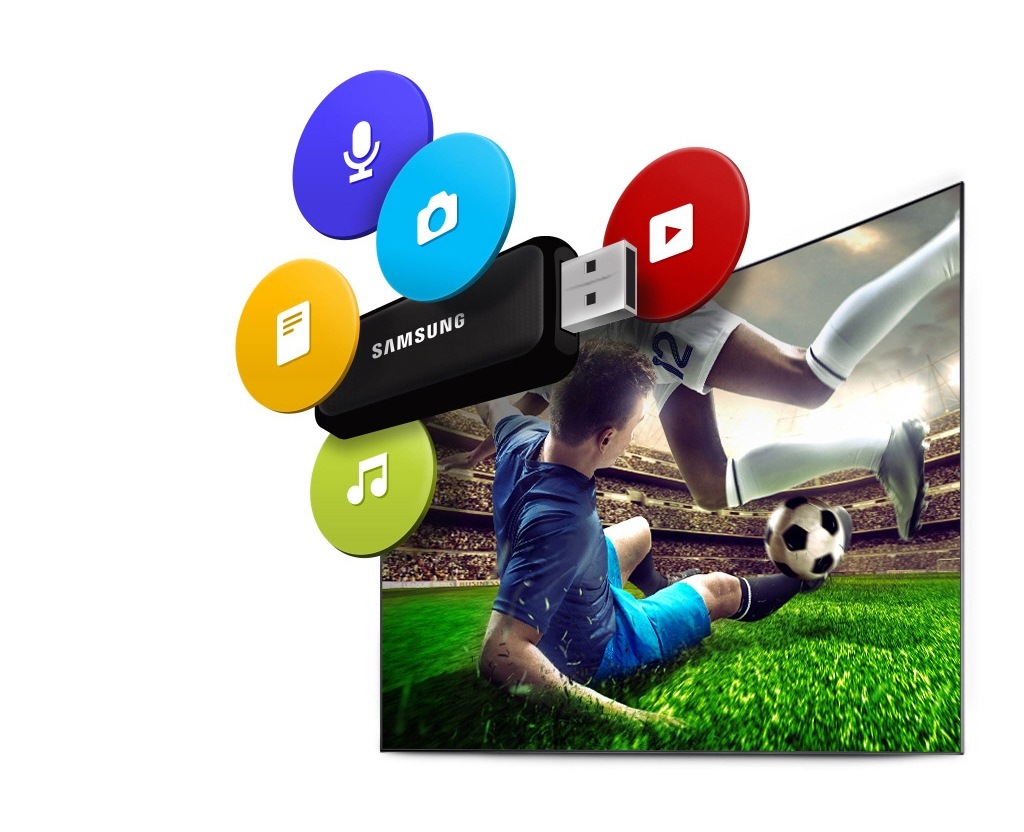 Plug your entertainment into the TV
Using ConnectShare, you can watch a variety of content in one simple step. Just plug your USB or HDD into the TV and enjoy your movies, music, and pictures on the big screen.
Simple and fast wireless connection
The built-in Wireless Lan lets you connect your Smart TV to the internet without the tangle of cables. With the streamlined connections, now you can really enjoy your TV's outstanding design.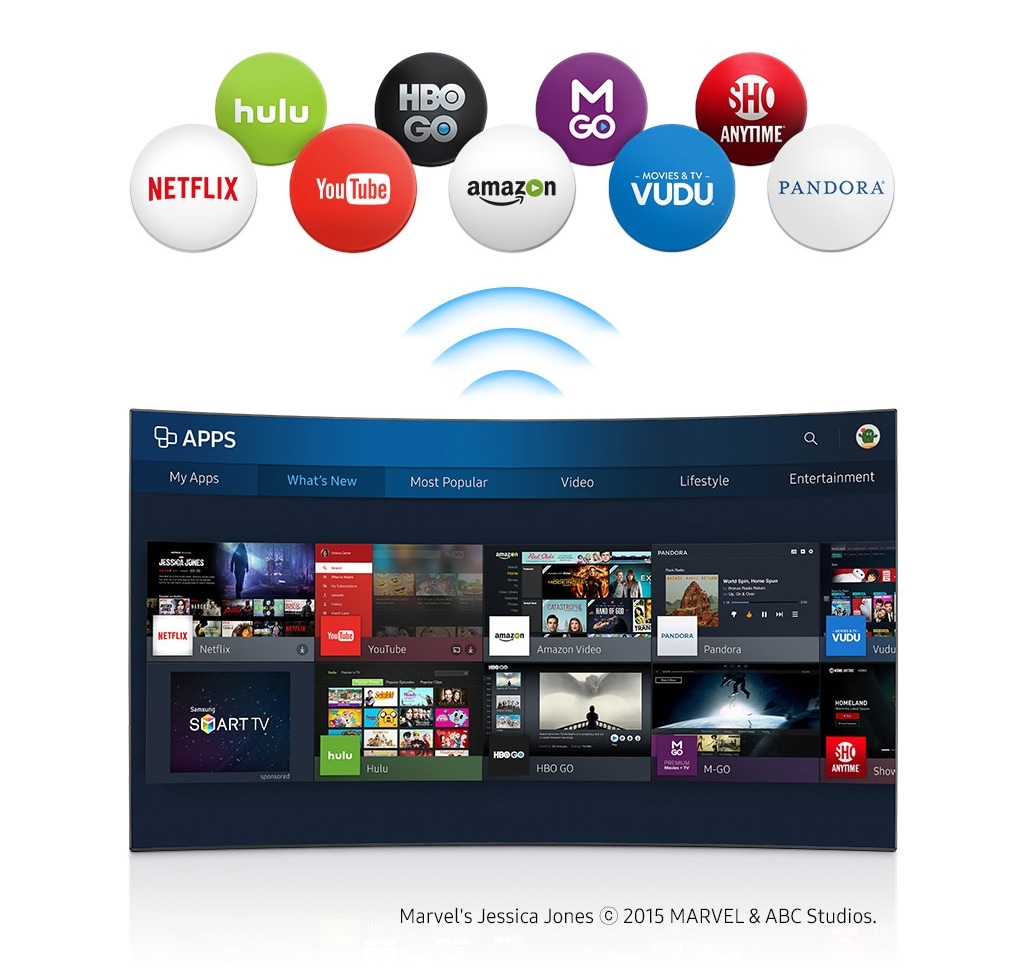 Dive into your video content
Motion Rate 120 offers immersive viewing with flicker-free video content. The amazing refresh rate and backlight technology will keep you at the edge of your seat with fast and seamless video.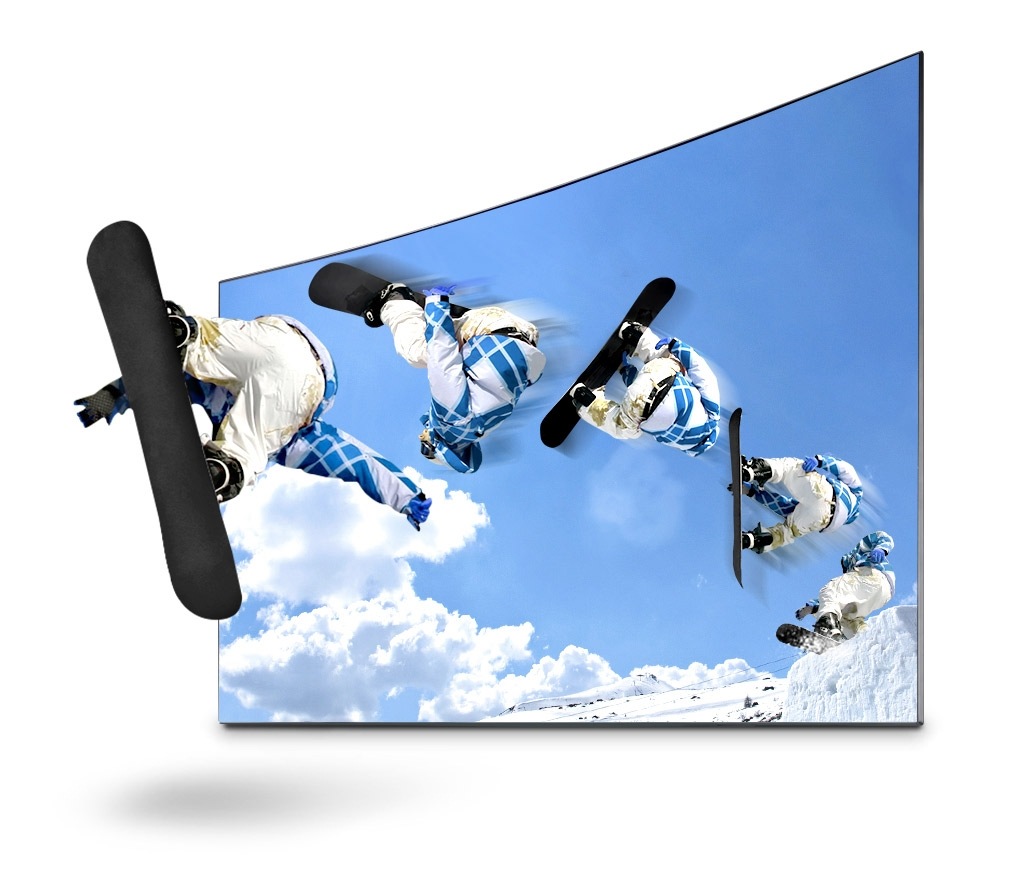 About the BrandSamsung is the leading global manufacturer of consumer electronics with market leaders in LCD and LED television, Home Entertainment Systems, Home Appliances and Air conditioners. Each Samsung home appliance (including cookers, fridges, washing machine and many more) is designed to make the home life easier. Samsung's full range of cutting-edge home appliances was designed with you in mind to help you run your home effortlessly so that you can focus on the things that really matter.
Visit Jumia's Samsung Shop for a wide range of Samsung Home Appliances and enjoy the convenience of secure online shopping, fair pricing, nationwide delivery and guaranteed products.
Key Features
Smart TV
4K TV
Motion Control, By Moving The Remote While Pointing on the Screen
Share Your Mobile Screen on Your TV Screen Quickly and Easily
Plug-ins Are Easy and Simple
Multi Tasking (Web browsing and Video at the same time)
Display size: 65 Inches
UHD / 100Hz
Depth(30mm) / VNB(7mm)
UHD Dimming
Precision Black
Instant On
Faster Speed and Strong Performance (Quad Cord Processor)
Product Line
Greentouch Tech Nig Ltd
5 stars

4 stars

3 stars

2 stars

1 star
Can I return this product?
You can return this product for a refund, within 7 days after receiving your original order.


How to return this product?
You can request to return this product online (click on "Your Account" on the top left part of the screen, then go to "My Orders").
You can also request a return by calling Customer Service 0700 6000 000


If the product is "shipped from Overseas"?
You can return this product for a refund, within 7 days after receiving your original order.
You can return this product ONLY if you have received the wrong product or if the item has been damaged.
You cannot return the product if you change your mind or you don't like the product.
For more information, please visit our FAQ on "Shipped from Overseas products"

What are the required conditions?
Please see below conditions for your return request to be accepted:
- Product must remain sealed, except if the product is defective or damaged
- Product is still in its original packaging
- Product is in its original condition and unused
- Product is not damaged
- Product label is still attached
- Product is complete

The products in your possession are your responsibility until they are picked up by our driver or you have dropped it off at a pickup Station. Any product that is not properly packed or is damaged will not be eligible for a return, so make sure they are properly taken care of prior to the return!


What are the next steps?
Once your return request done, we will contact you to arrange retrieval of the product. You will also have the choice to deliver yourself the product to one of our pickup Stations.

Once the product retrieved, we will proceed to examination.
- In the unlikely event that an item is returned to us in an unsuitable condition, we will send it back to you without refund.
- If examination conclusive and conditions respected, we will proceed to refund within maximum 14 business days post retrieval product