₦ 2,950
Sold by:
Mary Mary
| Positive Seller Score: 94%
Delivery Information:
Normally delivered between Friday 29 May and Tuesday 2 Jun. Please check exact dates in the Checkout page.
Top selling  BIOAQUA
Black Mask Blackhead Mask Deep Cleansing Black Head Mask Acne Treatment Anti-Aging Face Mask
Deep cleansing Black Mask, Black Head Removal Face Mask from BioAqua is a powerful anti oxidants that shrink the appearance of pores, firm the skin and reduce inflammation, once dried the mask strips away dead skin, impurities, and excess oil to reveal immediate and visible results.
It comes with a facial cream which helps in
smoothening
the face which will make you look young, fresh and sexy.
A
high quality
facial mask that helps skin recover its youthful appearance, formulated with vitamin A and E this perfecting mask revitalize and maintain moisture balance of your skin. Deep cleans oil and dirt from pores and allows moisture to be absorbed in to the skin is clean, soft and fresh with lighter appearance.
To make skin fresh and not greasy.Adsorption of skin's black and dirt.Rapid absorption blackhead, easy shrink pores.Gentle skin, remove excess dirt, help skin water and oil balance.Clean the skin, go to black, to help the skin clean.
Do you in anyway have Acne, Pimples, Blackhead?
Do not have Enough cash or time to visit the spa weekly or monthly?
Then worry no more as we bring to your Doorstep this Acne Remover,
Blackhead and pimples treatment,
*Removes Blackhead
*Removes Acne
*Removes Pimples
*Prevent More Pores From Forming.
Instructions for use:
Cleansing products clean nose and around with a hot towel over his T-zone so that the pores expansion
onto Blackhead export water for 3-5 minutes, then wipe clean,
then take appropriate suction the Blackhead Mask smear at the blackheads
skin until dry after 10-15 minutes, top-down mortgage in addition to the mask,
clean the nose and surrounding clean with water, after dried,
Description:
Item Type: Treatment & Mask
Gender: Unisex
Feature: Acne Treatment
suitable for skin quality: All skin
cosmetics efficacy: Deep clean, remove acne, anti sensitive, whitening
Feature:use effect
Capacity: 60g
Specification:Normal size
Type: Tearing-type mask
Shelf life: 3 years
Features: Removes blackheads, acne, eliminate oily
Applicable people: Facial skin aging,
fine lines and blemishes Oily skin strawberry nose
Using in this condition:
. Due in part because skin caused by acne, acne
. Oily skin strawberry nose
. Nose large pores blackheads
. Long-term use of the computer, watching television
Product ingredients: water, polyvinyl alcohol the daily dye, glycerol,
propylene glycol, the diazonium imidazolidinyl urea,
iodopropynyl butyl carbamate, glycol, flavor (daily)
Key Features
Blackhead and pimples treatment
Removes Blackhead
Removes Acne
Removes Pimples
Prevent More Pores From Forming.
Helps skin recover its youthful appearance
Revitalizes and maintains moisture balanceClears white/blackheads
Deep cleans oil and dirt from pores
Result is soft, smooth and lighter skin
Cleans the skin deeply
Removes impurities from the skin
Clears pores from dirt
Removes blackheads
Removes dead skin
Aligns the top layer of skin
Effects are: Anti Wrinkle, Firming, Moisturizing, Very safe, No chemical.
What's in the box
1 Bio Aqua black mask
Specifications
SKU

: BI045HB16GTNONAFAMZ

Skin Type

: All Skin Types

Product Line

: HOUSEOFSADAT

Weight (kg)

: 0.6
Product Reviews (2)
5 out of 5
I love it
It work great
4 out of 5
I like it
It's very effective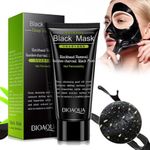 Bio Aqua BioAQUA Black Head Mask Acne Treatment Anti-Aging Face Mask